Share:
---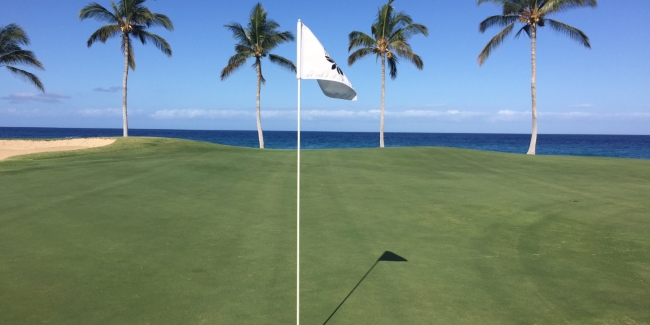 Hawaiian Crunch
Four Day Hawaii Golf Vacation Along Kohala Coast
By Scott Kramer
Squeezing in a five-day, four-night Hawaiian golf vacation isn't easy. You have to move fast without much relaxation, expect your body to get physically beaten up (don't worry, there's a cure), and take in a red-eye back home. And you know what? Totally worth it.

I leave from Los Angeles on a Tuesday morning. Five hours later, I'm standing at the Kona Airport on the west side of the Big Island grabbing a rental car. A 30-minute drive due north -- Highway 19 is lined with ocean on the left and black lava rocks on the right, plus an occasional "Donkey Crossing" sign -- finds me in the lobby of the Hapuna Beach Prince Hotel, a 350-room upscale establishment smack on the beach. Every room in this beautiful hotel faces the water. Every room. The suites all have screened front doors, in case guests want to bypass the air conditioning for the cross breeze. The indoor/outdoor lobby is grand in scale, and capped off with an awesome panorama of the ocean. The hotel's been around since 1994, and is terraced from the beach up. In fact, the lobby is on the eighth floor. Which is kind of normal for a lot of hotels in Hawaii, as buildings are not allowed to be taller than a coconut tree.

Since it's already late afternoon, I'm just going to chill for the rest of the day. My room is a huge one-bedroom suite, replete with two bathrooms, a pair of big-screen TVs, a wet bar, living room, and most importantly, a large patio overlooking the beach that can be accessed from either the bedroom or living room. I cannot resist the temptation to check out the beach and pool for a while. My surfing friends have told me this particular beach is a hot spot for the Big Island. I'm also informed that the north end of this beach -- coined "Turtlepoint" -- is where snorkelers commonly see turtles. It's also home to yoga and stretching classes in the morning.

I dine that night at the hotel's Coast Grill. It's flanked by its own garden that the chef grows some of the restaurant's own ingredients. Part of my outstanding dinner includes some of the largest and most succulent shrimp I've ever seen. Seriously, about a half-foot long. They go perfectly with the cabernet. As the sun sets, I can see a whale out in the distance. Very cool.

Night time is pretty unique on the Big Island. It's not generally a place with night life. Tourists are often disillusioned, I'm told, because there aren't a lot of bars. And whatever taverns and restaurants there are often close by 9pm. The island's true nightlife is stargazing. In fact, all landscape lighting points down on the Big Island, so that the telescopes up on Mauna Kea can be used effectively. I believe these are the world's largest telescopes, and the mountain, which is snow-topped while I'm visiting, is the world's tallest from base to peak. A visitor center sits at 11,000 feet and that's as high as the public can go. There are plenty of stargazing tours that take people up there. The lack of nightlife is kind of just the point here. The Big Island is a laid-back, daytime-oriented adventurous place to be. In that spirit, I head to bed to get ready for my golf adventure.

This hotel is part of the Mauna Kea Resort, as are two golf courses managed by the same people. There are a limited number of course members who pay a lot of money to play here, but most of them are just here for three months. Guests also pay a lot of money to stay and play here. The way director of golf Josh Silliman describes it to me, Hapuna Golf Course is a more player-friendly layout with ocean views from every hole. Its greens are flatter. Mauna Kea Golf Course -- a Robert Trent Jones, Sr. design -- has 99 bunkers. It's celebrating its 50th anniversary this year. I play there first.

I can immediately tell the 7,370-yard Mauna Kea is a tough course in simply perfect condition. While this coast only gets six inches of rain a year, I think one of those inches has already poured down this morning. The course is wet, but draining with ease. The third tee view is breathtaking. You're right along the ocean, facing a long par-3 that's known as the world's most-photographed hole. My 5-iron shot starts out great, then somehow disappears in the rough outcropping wedged between the green and the ocean. But I'm just mesmerized by the view and the sound of the waves crashing. The course itself is hilly with deep bunkers. In fact, when Rees Jones renovated the course in 2008, he added and modified bunkers. "There's never a hole where you can breathe easy," head pro Duane Otte says. The greens have relentless undulation. The finishing two holes are tough, including the par-5 17th that plays 620 yards from the tips. Yikes! You probably won't score well here the first time you play, but it won't matter. You'll have a great time and be wowed by all of the scenery. I was warned up front to expect about 10 extra strokes on the average score per round. I think that was pretty true. There's no doubt in my mind why this course still remains among the top 100 courses on many published lists. All of the par-3's are long and difficult. And all of them are picturesque. The whole course has this sense of serenity surrounding it. You hear a lot of animals around, roosters, birds chirping, and just a very peaceful feel to it. It seems to be like it's always been perpetually fantastic condition. I challenge you to find a blemish. We played it in a relatively quick three hours, with nobody in front of us. And I stopped many times to take photos. That's something I don't normally do, but I found the scenery absolutely breathtaking.

After golf, we grab lunch at Number 3, the on-course restaurant. The BLT with turkey perfectly hits the spot before I drive the quick five minutes to the 6,895-yard, Arnold Palmer/Ed Seay-designed Hapuna Golf Course for my afternoon 18. The courses actually border each other, but to drive from one parking lot to the other is probably a 1.5-mile drive because of the routing. While Mauna Kea is a very much a resort-style, on-the-water type of design, Hapuna is the other kind of Hawaiian style course: The kind that plays up into the wild and hillside. Its entire front nine kind of climbs up the hill, and the back nine brings you back down. It's very serene, with plenty of wildlife to keep you mesmerized. The second cut of rough is essentially made up of tall straw that's impossible to get out of. Thankfully, there's plenty of room in the fairways to keep your ball in play. It's a very player-friendly course with terrain that leans back to the middle, and rounds take just over four hours on average. There are several really good holes on this course, highlighted by the signature hole number 12, a long par-4 that goes downhill -- with a sweeping view of the ocean. In fact, every hole on this course has some kind of ocean view. There are some points where on a clear day I'm told you can see Maui. Unfortunately, we had a steady drizzle the entire round. But that's okay, as it seemed to slow the greens down just a little bit to make them even more playable. The greens in general are not as undulating as Mauna Kea's, but they are quite fast. And like the other course, there are no grass blemishes here. Everything is so well manicured, you just know you're at one of the best resort courses on the island.

My back is really tight the next morning and frankly hurting a lot. But after some stretching -- and a fantastic breakfast buffet at the Ocean Terrace -- I'm ready to check out of the hotel and go play Mauna Lani's Francis H. I'i Brown's South course. It's a 10-minute drive from the hotel. I've been told this is a pretty course and I'm really looking forward to it. It's a 6,924-yard Robin Nelson design that twice hosted the annual Senior Skins Game. After birdieing two of the first three holes, I feel invincible. Lava rocks surround and frame every hole on the course -- making this truly one of the most visually dazzling courses I've ever seen in my life. And when the breezes pick up, which they inevitably do, all of the lava rocks are suddenly in play. So even though many of the fairways are wide open, you can easily get into the rocks even on shots that you think are hit perfectly up the middle of the fairway. My favorite hole is number 12, a par-3 over water. That's followed by number 13 which goes right up to the ocean. Many holes here are flat and it seems like every hole is absolutely more beautiful than the previous one. Some holes meander right down to the ocean. The course is in spectacular condition and I think it's the ultimate resort-style course for Hawaii. There are also lots of bunkers that come into play, and when the breeze picks up as it did as my round ensued, playing well gets a whole lot tougher. But overall it's a spectacular, stunning golf experience that you don't want to miss when you come to the Big Island.

The people who work at the course are incredibly nice. As soon as I finish the round, I mentioned to the starter that I'd like to just take a drive and see the North course. He told me to just keep playing. So I did. This 6,913-yard course -- also sculpted by Nelson -- is more of that inland-style course I mentioned. Some of the holes come right down to the water, but most of them are built back into the land. There are a lot of condos surrounding several holes, but they're completely out of the way, both visually and when it comes to being able to hit them with an errant shot. It's an amazingly complementary course to the South. Two completely different style courses yet you can see the thread of immaculate conditioning that's very consistent with both of them. I don't think there's a blade of grass out of place on either course, and because the North is more inland, it has less wind. There's also a lot less lava rock surrounding the holes, and it just seems a little more serene for whatever reason. Parts of it are hilly, but much of it is flat. The greens are very easy to read, as well, and roll very true. From the 7th green, I look up and see a white, snowcapped mountain in the distance. And when I reach another green, I go to pull the pin out and see a whale breaching maybe 150 yards from the green. Spectacular! The golf gods finally give me some love on the 10th hole, when I pull a tee shot into the lava rocks and see my ball somehow take a huge leap right back into the middle of the fairway. I feel like Even Steven. After golf, I grab quick lunch at Huli Sue's in the clubhouse. Good food, fast and friendly service, and great views. What's not to like?

I make my way five minutes south to the Waikoloa Beach Marriott Resort & Spa. It's a 555-room family resort that's bustling with activity. There are many families here. The pool has a waterslide and is just steps from the ocean. In between are several hammocks. My room is your standard hotel room, and the bed is oh-so-comfortable. I know I'm going to sleep well tonight. I take a little walk. This resort development has another huge hotel on property, plus many timeshares. There are also two outdoor shopping malls, with everything from upscale shops to a really nice and not-overpriced grocery store. "And the ocean water is 78 degrees year-round," says John Dominguez, the hotel's director of sales and marketing.

I have dinner that night at Hawaii Calls Restaurant & Lounge, the Marriott's only full-service restaurant. My "Seafood Broil" is simply outstanding, the chocolate mousse with macadamia nut dessert is decadent, and the atmosphere is amazingly relaxing. I'm also consciously reminded that I've never experienced a golf destination with such friendly service. The chef here has a relationship with some farms and thus established a "seed to table" fruit and vegetable program, while 80 percent of the ingredients the restaurant uses is grown or harvested here, including meat, fish and even coffee.

The next morning -- after a spinach, egg-white omelette at Hawaii Calls -- I take the free shuttle from the lobby to the golf clubhouse. There are two courses here. I play the Robert Trent Jones, Jr.-designed Beach course first. It's a relatively flat course with a plethora of condos and bunkers. The first two holes require shots over the water. As we make our way through the front nine, we see about 15 whales offshore, and water everywhere crashing into the rocks behind the 7th green. I could get used to this real quick. The wind begins picking up on the back nine, which I'm told is kind of normal. The course isn't particularly long -- it tips out at 6,566 yards, and I found my score to be pretty dead-on for my handicap. Overall, it's a scenic, very fun layout to play. And I imagine the whole time that my children would enjoy it immensely, as it isn't overly difficult.

We stop after 18 for a Kings Burger inside the Scottish-themed Kings' Grille -- the clubhouse restaurant. It's a half-pound burger that seriously may be the best I've had in years. Nice and thick. Then it's on to play the 7,074-yard Kings course, which is the sister layout to the Beach course. It was the brainchild of architects Tom Weiskopf and Jay Moorish. Where the Beach course is revered for its views, the Kings course is preferred by better players -- so says the golf staff. There are a lot of long holes on the Kings course that were made even longer because the winds picked up -- in some cases, it was a two-club wind. We have a close encounter with a family of goats on the 5th green. The 18th hole is a 501-yard par-4 playing even longer today because of the wind. I agree with the staff, in that this course is a bit more challenging than the Beach. But both courses somehow complement one another with grace. I can certainly see how guests could play both courses for a week stay and not get sick of it. I think the courses would play very differently without the wind, bringing different factors into play. As nice as the staff members are at the other courses, they are exceedingly nice at Waikoloa.

That night, I get picked up at the lobby for a sunset cruise on the harbor from Ocean Sports, a local adventure company. There are lots of excursions offered to tourists on the Big Island, but this has to be one of the better ones. We drive north about a half-hour to the dock and board a large boat that sails into the Kohala Coast sunset. Cocktails are flowing freely, as are heavy appetizers. There are about 30 of us, and everyone has their camera out to capture the beauty before us. As luck would have it, the guide helps us spot a series of whales breaching maybe 100 yards from the boat. Totally cool. And although we don't see the legendary green flash at the exact moment of sunset, we do see a palette of oranges and reds on the horizon. This two-hour cruise was definitely a major highlight of this trip -- which is saying something, as there were a lot of highlights.

The next morning, my back is actually feeling pretty good -- considering all of the golf I've played and all of the walking I've done. My iPhone Health app tells me I've been taking more than 22,000 steps per day while in town. Today, I'm heading 10 miles south to play the Jack Nicklaus-designed Hualalai Golf Course at the Four Seasons, then getting a massage before heading to the airport for a flight home.

Without a doubt, good drives make playing the 7,117 yards of Hualalai easier. The fairways are wide open, the greens are relatively flat and roll true. And is the island's theme, there isn't a blade of grass out of place. Today, the wind is crazy strong. One of my drives traveled well over 300 yards, with the wind. The next hole against the gust, I hit it even more solid and it barely ekes out 200 yards. The 7th hole is a gorgeous downhill par-5 that you have to hit your second shot between two walls of lava rocks. In fact, there are many lava rocks surrounding most of the holes here. No. 10 is a monster at 566 yards, and it feels like it's playing 1,000 yards into the wind. Every hole has an ocean view. But the prettiest hole on the course - and maybe on my entire trip - is the 17th, a par-3 along the Pacific. Waves crashing in from the left only add drama, while wind in my face adds a good two clubs. This course hosts an annual Champions Tour event, and it's definitely worthy.

Afterwards, I take a walk through the luxe resort down to the beach and chill out on a chaise. It's time to mentally unwind from all of the golf I've played this week -- 117 holes in just four days. Then I go back to the Hualalai Spa -- adjacent to the golf course -- and get a good bike ride in at the gym. I know it's a long flight back to Southern California, so I want to at least get in some cardio. Last but not least, it's time for my massage -- the antidote for my aching muscles. Today it's a local specialty, the Ashiatsu treatment. Essentially, a masseuse grabs onto parallel bars well above the massage table, and then walks barefoot on your body for a deeper massage. It's a little different, but gets the job done. I have zero pain afterwards. Which astonishes me for everything I've experienced this week.

The airport is about 15 minutes away. As I'm hanging out waiting for my plane, I can't help but think what an awesome golf destination the Big Island is. It really plays second fiddle to Maui and the other islands, when it comes to vacationing. Yet I've now played golf on four of the islands, and can confidently say that nothing beats the Big Island, when it comes to top-conditioned, oceanside, fun courses -- all within a 20-minute drive from one another. Sure it's a romantic getaway, but I could also see this winning a golf buddy popularity contest for places to go.

Revised: 03/30/2015 - Article Viewed 19,788 Times
Share Comment
Written By: Scott Kramer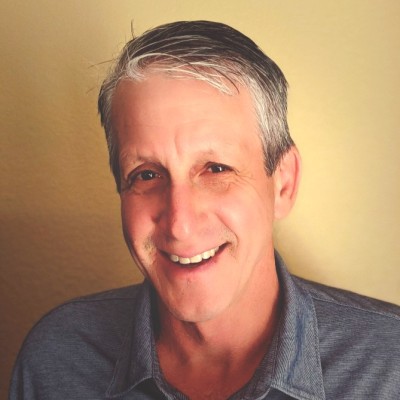 Scott Kramer, former senior editor of Golf Magazine, is a freelance golf equipment writer based in Carlsbad, Calif. - the unofficial capitol of the golf equipment industry. His work can be found on a regular basis in publications, such as T&L Golf, PGA Magazine, Met Golfer, Golf Tips and Private Clubs.