Share:
---
Golf Heavenly Hawaii
Trip to the Big Island Well Worth The Wait
By Glen Turk
There is a place where a brilliant blue ocean meets impeccably manicured fairways and greens; a place where tranquility exceeds expectations in a halcyon paradise. And amazingly you won't need a passport or a reason to go there. A nine hour direct flight from Chicago, yes, but a passport no. This revered destination can only be the Big Island of Hawaii and the incomparable courses of the Waikoloa Beach & Golf Resort.

Located only 18 miles north of Kona International Airport, the Waikoloa Beach & Golf Resort is an oasis in the desert - or more specifically the moon. The car ride from airport to resort will make you wonder how natural beauty can arise so effortlessly from an active volcano. Incredibly, the five islands that comprise Hawaii feature 11 of the 13 climates Earth has to offer, save for Cool Forest Snow and Artic.

The Waikoloa Beach & Golf Resort brings America's top two luxury hotel chains, Marriott and Hilton, together for one incredible experience within walking distance of each other. The Hilton is the Disneyworld of the two with tram and covered boat shuttles throughout the property. The Marriot is more laid back than the Hilton as their second story entrance reveals the best sun set opportunities night in and night out. Also on site are The Kings Shops - the main reason you really don't need to leave the property if you don't want to. Whether your taste is elegant department stores, Hawaiian specialty shops, or a corner market, the Kings Shops have got you covered. And new for 2008, a renovated food court sure to satisfy your palate.

But Waikoloa Beach& Golf Resort is so much more than the glitzy Marriott or Hilton resorts, it's also about the laid back on-site condominiums. I subscribe to the theory that like the foundation of any good house is well . . . the foundation, the foundation of any great golf trip is where you decide to stay. For my trip I had the ultimate pleasure of relaxing at ResortQuest Hawaii's The Shores at Waikoloa, a gated condominium community within the Waikoloa Beach property. The Shores is an all-inclusive vacation hideaway, complete with your very own pool, whirlpool, tennis courts, fitness center and concierge service. The Shores at Waikoloa feature 120 immaculate units of either the one, two, or three bedroom variety. The Shores is a whole condominium project meaning there are no timeshares at the property. That translates into no minimum booking requirements so you can stay as long or as short as you wish.

Trust me, you'll want to stay longer than shorter, thanks to the following amenities. "All of our units are fully equipped, including a full kitchen with oven, microwave, dishwasher, stove top, refrigerator with ice maker and a stacking washer / dryer. We truly strive to make our units a home away from home," stated Jerry Jamesson, General Manager of The Shores at Waikoloa. "But it's the outdoor porch, or lanai that sets the Shores at Waikoloa apart from most other condominiums. They are a protected retreat that is very large and open, allowing for enjoyment of the setting sun, watching golf or overlooking the lush gardens." For more information on The Shores at Waikoloa, visit their website at www.resortquesthawaii.com. Simply click on the Big Island, then select Shores at Waikoloa.

When staying at The Shores at Waikoloa, I will promise you this - you will get swept away by one majestic ocean panoramic view after another and you will want to get up every morning at 5:30 a.m. to see the moon set and the sun rise from your lanai. And finally, you will ask yourself at least 30 times per day what took me so long to get here?

But arguably the finest attribute of The Shores at Waikoloa was their concierge Bill Meyers. I am convinced concierge is French for "Answer Man," because this guy knew it all - where to eat, when to leave, and where to go. Imagine that, getting paid to tell people where to go. Just think, I'd been unsuccessfully doing that my whole life for free.

So now it's my turn to tell you where to go when it comes to great golf on the Big Island. My first expedition was at The Kings Course, the #15 rated course of the Hawaiian islands according to GolfWeek Magazine. The par-72, 7074yd layout is tucked within the Waikoloa Beach property and is highlighted by epic views of nearby Mauna Kea, which means "White Mountain" and is the tallest mountain in the world (33,000 ft) when measured from the seafloor. Besides incredible volcanic views, ten of the 18 holes bring water into play, making the Kings Course full of tough decisions and shot-making opportunities. "People are astounded by how unique the setting is," stated Scott Head, Director of Club Operations, Waikoloa Beach & Golf Resort. "I can't think of another place in the world where emerald green fairways meander though ancient lava fields, with the backdrop of the towering volcanoes and the deep blue ocean. It is almost surreal."

The Kings Course is highlighted by a subtle mix of long, challenging par-4's beset with a few shorter, tighter ones. Case in point, the 5th measures 327 yards while the 6th is longest par-4 on the course at 465 yards. Here is Scott Head's take on his two best holes of The Kings Course. "I love the 5th and 18th as they bring forward the true meaning or risk/reward. The fifth is a drivable Par-4 that tempts you to pull out the driver. The entire left side is guarded by a long deep bunker with lava outcroppings with very little room right. It's just a great hole that tempts you," explained Head. "Number 18 is a terrific finishing hole, particularly if a match is on the line. It is usually downwind, so this 501 yard par-5 is reachable. With a great drive you can be left with an iron into a green that is devilish, small and heavily guarded by bunkers and lava short and left," stated Head.

I'll go in a different direction for my dynamic duo, taking the pair of back nine par-3's, the 188 yard 11th and the 163 yard 17th. I just love the inland settings of both holes as there are just enough trees and elevation change to make you feel a little bit closer to home. Designers Tom Weiskopf and Jay Morish have done a wonderful job of creating an amphitheater setting on both holes, only making you wish there were grandstands around the holes and a tournament on the line when playing them.

And finally, when you're enjoying the fairways and greens of the King's Course, make sure to indulge in the delicacies at the King's Grille afterwards. Some of the most authentic Island food is found here, including the succulent Adobe Chicken plate lunch.

The fun continues at the stunning Beach Course, a spectacular array of holes featuring unsuspecting elevation changes and panoramic views. After a straightforward opening hole, the 6566 yard, par-70 Robert Trent Jones Jr. design shows off its bite. The 390 yard, par-4 2nd hole is the third toughest on the course for good reason. A precise, long drive is a must - or else you'll be laying up thanks to the 50 yard wide pond in front of the putting surface. From there you have to navigate a double-tiered green that's guarded by two bunkers, one long and left and one short and right. I would have gladly taken par either of the two times I played it and moved on the 3rd.

The initial par-3 on the course, the 157 yard 4th hole, is the epitome of a Hawaiian golf hole. Palm trees surround the green, a gentle pond secures the front of the putting surface, and the small, elevated tee box is a classy design feature that tops off the experience. Even if you aren't playing the Championship tee boxes, make sure to drop a second ball here and appreciate the simple beauty of this hole.

The back nine begins with one of the coolest holes on the course. The 397 yard par-4 10th is highlighted by intense lava fields down the entire right side of the fairway. Trent Jones Jr. did a miraculous job of using the hole's natural elements to form a difficult challenge. The lava flow juts in just enough where a drive must favor the left side if you'd like to see the pin on your approach shot. This is no place for a slice off the tee, unless you enjoy playing Hawaiian Plinko as your ball ricochets off the lava.

Two holes later is the most talked about hole of the 36 at Waikoloa Beach. The 502 yard par-5 12th is a blast to play for all skill levels and a hole that should be played at least twice in a row. An aggressive drive over a large bunker at the 250 mark will roll downhill and potentially leave you with a long iron to a wind swept, wave crashing green. In fact, the putting surface looks like an extension of the ocean instead of being on dry land. There are so many things to say about the 12th, I'll just let the picture on page-do the talking. Simply stated, I flew for 14 hours just so I would have the chance to enjoy ocean-side vistas like this.

Waikoloa Beach's two scintillating courses may be different in design, but that's what makes the property special according to Scott Head. "It is the diversity that exists between the two courses and the warmth of the staff at both that makes Waikoloa Beach & Golf Resort unique. And while each course places greater emphasis on different parts of your game, both share a common element of fun."

And with an entire week of weather between 75 and 85 degrees in late November, how can you go wrong. It sure beats the frozen tundra of the Midwest, doesn't it? For more information on Waikoloa Beach & Golf Resort, visit their website at www.waikoloabeachresort.com.


Article Tags: Hawaii golf, Waikoloa Beach & Golf Resort
Revised: 01/10/2011 - Article Viewed 20,510 Times
Share Comment
Written By: Glen Turk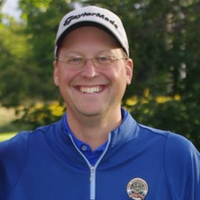 Glen Turk is a Wisconsin native and is the Senior Writer/Editor of Midwest Golfing Magazine. Midwest Golfing Magazine was formerly known as Pub-Links Golfer's Magazine and is a free publication distributed four times per year throughout Wisconsin, Illinois, Michigan, Minnesota, Iowa, Indiana, and Ohio.

His duties at MGM include writing course features, facilitating product testing, and overseeing the overall content and look of the magazine. But clearly his most important task is playing as much golf as his wife allows. Fortunately for him, she plays also and loves out-driving him even with a 60 yard head start.

Glen plays to a 6 handicap but once set a record by having his ball retriever regripped 15 times in one calendar year. It was a December trip to Guam that ultimately did him in. Finally, if you haven't caught on by now, the two most worthy weapons in Glen's writing arsenal are self-deprecating humor and pithy one-liners.

My signature line, "Be A Force on The Course" and now more recently, "Hit 'Em Where They Mow!" can be reused at no charge.