Share:
---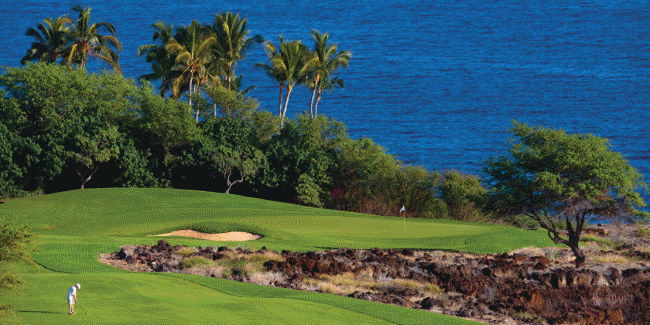 Three Day Golf Trip To Lanai
Paradise Found
By Scott Kramer
I traveled six hours from California to get to Lanai, but gain three hours on the clock along the way. Thus, it's mid-afternoon when I arrive at the local, tiny airport. I'm greeted by a friendly Four Seasons Lanai rep who situates me in the back of a luxury SUV for the short ride to the hotel. The ice-cold water bottle, in-car Wi-Fi, iPhone charger and oh-so-comfortable seats are just a sign of the pampering I'm about to receive for the next three days.

Ten minutes later we've descended down a dramatic hillside with nothing but the Pacific and a neighboring island on the horizon, and then we roll into the hotel driveway. As I step out, I'm greeted by one person putting puka shells around my neck, and another offering me a orange passion fruit drink with a hint of jalapeño. I'm already relaxed. "Right this way, Mr. Kramer," says an ambassador who proceeds to walk me around the main lobby and show me to my room. We bypass the front desk, which already has my vital payment information. My room is amazingly high tech, with everything from an electric toilet with a heated seat to a 75-inch TV mounted on the wall. Oh, and did I mention there's another TV set in the bathroom, built right into the mirror? Amazing. After a quick shower, I go downstairs and meet with my fellow golfers at the sports bar for appetizers -- they call them "pupus" in Hawaii.

Golf the next morning starts at 7:30. But first, I opt for the breakfast burrito and buffet in the One Forty restaurant off the lobby. They have so many great things to eat here, including homemade donuts and pastries, as well as a whole Japanese food section -- something I've found to be common for Hawaiian breakfast buffets, due to the large number of visitors from Japan. There's also an omelette station, fresh fruit and yogurt, and pretty much anything else you can ask for at a breakfast buffet. I wash it all down with a green smoothie, and then it's off to the golf course.

Manele Golf Course is one of my favorite courses ever. It's a Jack Nicklaus design from 1993 with 18 holes that all have ocean views. We're right on top of a cliff directly over the water. It's absolutely spectacular. And as courses go, it's one of the most forgiving Nicklaus courses I've ever played. Got to test it out a few years ago, and always wanted to return. I like to play fast, and that's not an issue here because so few players actually get to go over to the island to experience it. Course officials tell me they get anywhere from four to 32 players each day. It's extremely windy this day, which is unusual I'm told for this part of the island. In fact, they only had one day of rain here in the last six months. But you would never know it: The grass is bright green and in absolutely meticulous condition. While the wind's playing up to four clubs either way, we have to be careful with club selection. We opt for the blue tees, playing about 6,400 yards today, and have no problem finishing the round in about three hours. And not once did we feel like we were rushing. In fact, we collectively stopped many times just to snap pictures. My score is not so great this day, but I could care less. Having such a great time made me forget about losing six balls into the Pacific.

Afterwards, we have lunch in the clubhouse's "The Views" restaurant. Sit down at any table inside or out, and you'll instantly realize why the name is applicable. We split a plethora of pupus, and I also try the popular Views Burger that was touted to me as Hawaii's best burger. After eating it, I don't doubt it. It's nice and thick and cooked to perfection. I get back to the room, just in time to change and take a shuttle bus up the other side of the island to Koele Lodge, which is a former five-star hotel that's also owned by the Four Seasons. It's currently housing employees, but will likely reopen sometime soon in the future as another luxury hotel with a Greg Norman golf course. Anyway, my friend and I rent mountain bikes to ride around and explore the island. We start going uphill to see the renowned shipwreck over the top of the hill, but quickly realized that it's too much of a match for our ability to ride. So instead, we make a U-turn and head back into Lanai City to check out the two-street town. Overall, we ride the bikes for about an hour and felt like we got really good exercise for the day. Then it's time to go back to the hotel for some rest and relaxation, before having dinner. First, we see the sabering demo in which one of the hotel employees uses an actual saber to shear the cork off a champagne bottle. They do that every night at sunset here. Afterwards, we head to dinner at One Forty. After all the appetizers everybody is sharing, I opt for a Catalan shrimp dish that comes in a spicy red garlic sauce. It's so good, I found myself dipping bread into the sauce after the shrimp was gone. Couldn't get enough of it.

The next morning, we go right back to the course for another 7:30 tee time. Today the wind is loads less temperamental, which completely changes Manele's complexion. In fact I play with the same guys as yesterday, and each of us scores eight shots better. Frankly, I would've improved by 12 shots had I not double-bogeyed 17 and 18. I haven't been a finisher lately. Regardless, it's much easier to see why it's such a player-friendly course on this round. And I find myself liking the course even more.

Today, lunch is pool-side at Malibu Farm. A Caesar BLT salad hits the spot before I head the 20 yards to the spa for a reflexology massage, which is essentially a foot and calf massage. I'm not much of a massage guy, but I find this to be so relaxing that I actually nearly fell asleep during the middle of it. And that's positively complimenting my masseuse Morgan. She was awesome, and made it so relaxing.

At night, our group gathers at Nobu, which is an upscale Japanese restaurant chain that happens to have one of its finest locations right in this hotel. We essentially share a bunch of appetizers for dinner, as well as a flourless chocolate dessert. I let the waiter know upfront that I don't eat raw fish or sushi, and he quickly accommodates me with food I will eat. To add Hawaiian flair, I order a pineapple martini and wind up having two. It's the perfect drink to flank all of the seafood and steak in our meal. Each course, and there must've been about 10 of them, was better than the previous one if that's even possible. It's a really unique, fun experience that everybody thoroughly enjoyed.

The next morning after another breakfast burrito, my third of the trip in the exact same restaurant, it's time to head back home.

Revised: 05/16/2016 - Article Viewed 20,300 Times
Share Comment
Written By: Scott Kramer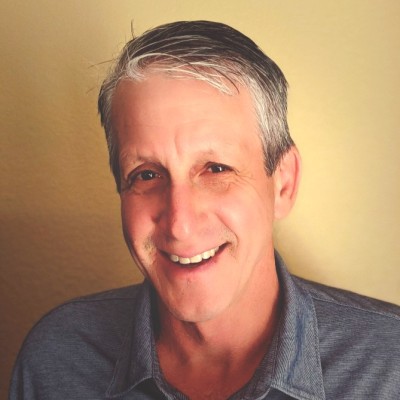 Scott Kramer, former senior editor of Golf Magazine, is a freelance golf equipment writer based in Carlsbad, Calif. - the unofficial capitol of the golf equipment industry. His work can be found on a regular basis in publications, such as T&L Golf, PGA Magazine, Met Golfer, Golf Tips and Private Clubs.